I have to keep my butt off of Etsy LOL I just love looking at all the beautiful things everyone makes! I cant help it. I get so inspired in my own work to see the creativity that is so plentiful on Etsy. I found a few shops I just have to talk about just because they are WOW!!
Cambria's Creations
This is a shop where a 12 year old girl makes all the jewelry you see. Please check her out, this stuff is absolutely incredible. you see jewelry all over etsy and every now and then you see stuff that knocks your socks off, kinda like this LOL
Kreated by Kelly
OMG...Kelly makes the most incredible stuff. The button cuffs, the button bouquets...Oh the BUTTONS! I have bought a few pieces of her work and its incredible quality and comes wrapped and packaged so sweetly. You feel like its your birthday anytime you get a package from her shop. Treat yourself and check her out. This stuff is too darn cute!
MIZombie
I first heard about this incense shop when Kelly blogged about it a while back. She adored the incense so when I found out he took RME I jumped at the chance to spend some of that RME money and try out the incense...OMG! Its awesome!! I got the Zombie Blood incense and it is just amazing. It burns good, and the smell is incredible. It smells up the whole house and is truly an amazing scent. You get a really good amount of incense for the money and I feel its top quality stuff so go check out Mr. Zombie and treat yourself to some incense! I could smell this stuff when I walked up to my mailbox LOL I knew it came before I even stuck my hand in there.


Momwithahook
I took advantage of her dollar days sale and OMG the quality of the crochet is incredible!! Here is a pic of Maylee in one of the headscarfs: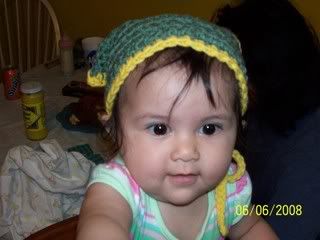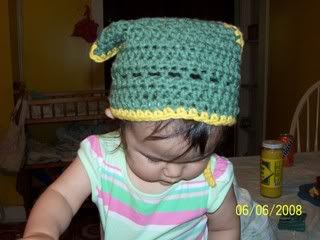 Aint she cute? I also got one of her cool gnomes. Maylee LOVES the gnome...I like him too and so does Tyler and I am constantly having to fight Tyler over the gnome...I get to play with him FIRST! I am the mama! LOL
Check out momwithahooks shop and give her some lovin' She has a
blog
too, thats super cool.
I have some links I wanna pass on too. I found a buncha cool stuff lately and I just wanna share.
How to make a pillowcase dress
How to make shrinky dinks out of recycled plastic
Tutorials on SOOO many things
I like to pass things along as I find them, and of course I love promoting other people's shops...I know it sounds kinda bad for business on my behalf but I just love other peoples stuff and if I can help get more handmade good out into the world and help another mama make a sale then I am happy. I think everyone should by handmade as much as you possibly can. I honestly try my best within my financial limits to buy the things I need handmade, or I make them myself when possible.
Please see this link
HERE
this was on Snopes.com and is a true story about a woman who bought flip flops at wal mart, and the resulting chemical burns on her feet and the crappy treatment and utter lack of concern from wal mart staff. This is another link I wanted to share that came to my attention this past week....makes me mad. But what can ya do? Buy handmade!