I wanted to thank everyone that left birthday love comments for me yesterday! I feel so warm and fuzzy inside its unreal, and I had a lot of love from my
hippiesew
mama's yesterday too. I did not realize how many birthday messages I got till I got more into my inbox!

I am just so happy that so many people took the time to leave me a comment here or a message on hippiesew. I cant thank you all enough for the love...especially on my 34th birthday!

I am 34 this year...egads! How did I get this old! I guess its a combination of pure determination and the fact that I keep on living no matter what. I am stubborn so here I am 34 years OLD.

If I feel this old at 34 what am I gonna feel like at 44? AHHHH, god I dont wanna think about it!!!! (runs away into the night throwing beer bottles and cursing)

Yesterday was pretty uneventful. I woke up (as usual) and did some sewing on this poor womans custom I have had for WAY too long. I did finish it up by the way. We went to some place my husband likes to eat....yeah you read it right. Then we went to a fabric store. Its a quilt shop that has been here for 5 years and I didnt know about it, can you believe that! I couldnt resist the designer fabrics so I spent 20 bucks getting fabrics for Maylee to have 2 of these really cute outfits I made a pattern for. Here is one of the outfits...this is the first one I made like 2 days ago. it turned out perfect, i just measured her a whol lot and got busy drafting a pattern. Everyone LOVED this outfit when we went out yesterday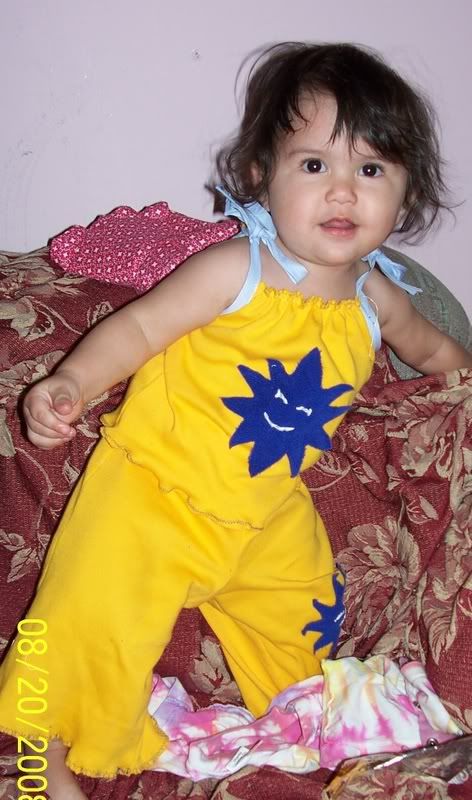 I made this one out of yellow jersey knit, and a blue corduroy sun applique, cool huh?

Here is my new conquest in fabrics for her other outfits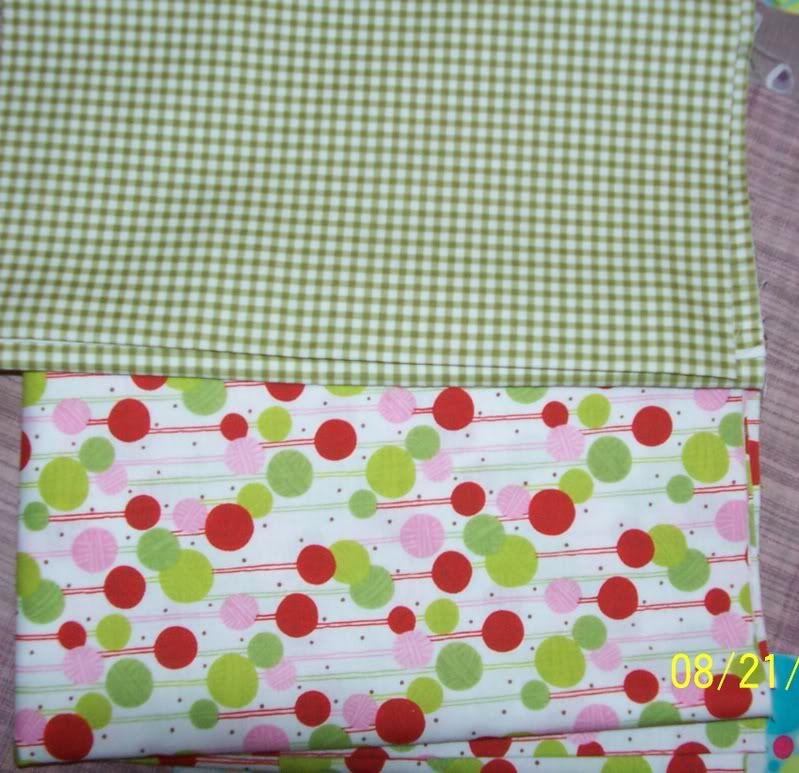 The top is just a cotton gingham print but the bottom is a new Alexander henry print. i LOVE Alexander henry and will buy damn enar anything made by him. I see SOOOO many designer fabrics in this quilt shop and they are ALL 8.50 a yard and up, so I could never shop there for fabrics for my clothes but its nice to dress Maylee up. All I need is a 1/4 yard for a top like this one, and 1/2 a yard for pants

Here is my other conquest: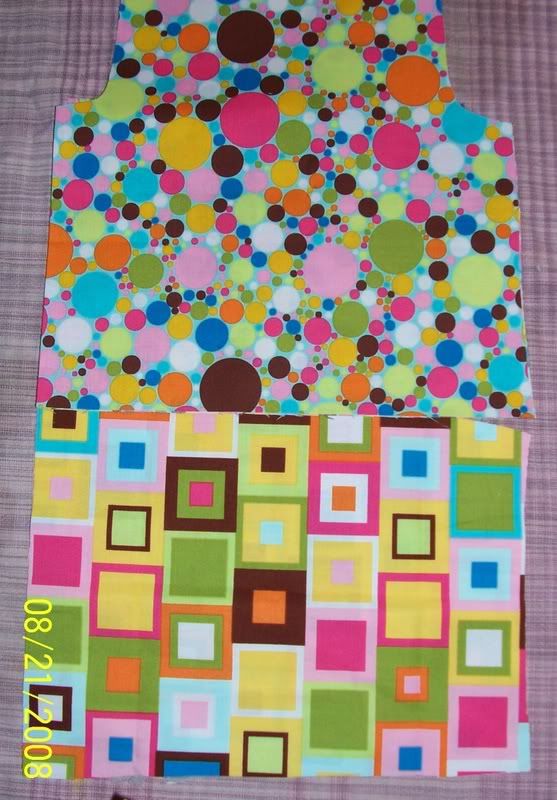 I cant remember what designer these come from AHHHH! But I do know I could not come home without these fabrics. here you see they have already been cut out into pants and a top. I actually got the top finished last night but am still working on the pants. I need to hem them, add a ruffle or something and some ric rac. I will post pics of Maylee in this one cause she is gonna be super cute as always.

So that was the most exciting thing that happened on my birthday. I got fabric for Maylee, I got to do some fun sewing in between trips out in the heat to go places and do stuff like grocery store and crap.

Justin's Birthday was the 19th, and he told me he wanted chocolate cupcakes with blue sprinkles for his birthday. I asked him just for fun what you are supposed to get girls for their birthday, he said,"Flowers." I said, "you go Justin! Thats a good present. What else would you buy for a girl on her birthday?" Justin replies,"Alarm clock." I laughed so hard I almost peed my pants. he thinks girls like alarm clocks and flowers. I probed further to get some idea of why he thinks this and he really honestly believes girls like alarm clocks...I loves my Justin. he turned 15 on tuesday. He was due on my birthday all those years ago, he still made a mighty fine birthday present.

OK thats all for my birthday excitement...yay. I almost had a heart attack from all the excitement yesterday...NOT! But I do appreciate all the love from you guys, I really do. I have so many friends here online and I hope someday I can meet each and every one of you in person!