I have this friend...I mentioned her before here. Her name is Sara. She is 16.

I befriended Sara and I instantly loved her with all my heart and soul. I found her about a year after Aurora died, and I thanked God for Sara. She eased my pain a bit and made me wish she could be my daughter...the feeling is also mutual. She calls me,"mama". Just like Tyler does. We have often been asked if I have "any other" children when me and her is out together LOL I guess she looks like she could be my kid too.

Sara is terribly poor. Her mother lives off of a meager disability check and with a boyfriend who smokes weed and drinks like a fish and cant hold a job, its hard to do things like put clothes on your daughters back...some things are more important after all. I have made Sara a few things but she isnt much into the "Hippie" thing...she thinks she is Gothic...I am cool with that. Whatever makes her happy makes me happy, and she does look cute with black lipstick on....

My newest listing is for these cool three tiered capri
pants
: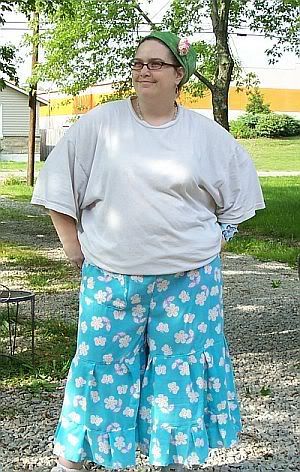 Sara has a social worker (surprise surprise!) and this lady was so sweet, she took her to a couple of thrift stores to get her some clothes. Sara is down to like three or four articles of clothing now since she has put on so much weight from being on the Depo shot her mom put her on...I can kinda understand cause Sara is having "relations" with a young man, and the last thing she needs is a baby but still..its really packing the weight on her quick and she has nothing to wear!But anyhoo, the social worker gets her some clothes and your not allowed to try them on in the stores you just have to buy and pray basically, so Sara gets home and nothing fits. Its ALL too small for her. She happened to pick up a piece of fabric..the fabric the pants are made from, and she was able to get the social worker to buy it along with the clothes. She told her I make clothes and would make it into something for her so the worker went for it...Sara HATED the fabric but thought it may be something that I would like or that may sell...she brings it over to me and I LOVED it of course LOL The only problem I had with it is its a synthetic fabric. I like cotton myself but I see some things on Etsy made from synthetics so last night I cut out these pants and I got them finished up early this afternoon.

Sara dont know I made them. She dont know she is getting all the money if these sell...she dont know nothing yet. I want to surprise her. I am gonna take her to Hot Topic (KMart for goths) and let her get as much stuff as she can get for the money...if nothing else we can hit this lil shop I know of that sells plus size clothing fit for teens. Maybe she can find something there. I hate to see her have to dress like she is my age or older just cause she has got chunky. She is still only 16 and wants to look cool. She reminds me of the one big reason I started sewing in the first place.I hate looking like my mom when I go out...mom looks fine dont get me wrong but mom is like 68 LOL

So if you guys got a minute, go check out Sara's pants on
Etsy
. They are fun to look at if nothing else. That fabric sure is pretty!

To whomever purchases these
pants
, we thank you in advance for helping a young girl have clothes in her closet..nice clothes that fit her and that she LIKES. This is so important when your a teen...you guys remember, It aint been that long ago for any of us!

Sara brought me other fabric I am looking at right now...there is a piece in there with Buddha on it...I can make it into a short skirt for someone thin.I got a couple of other project to get done before I can get to that one but its definitly coming up!

Thanks for reading guys...