Oh my little sweetheart. I was sitting here yesterday printing out some shipping labels...busy, working. I notice its awfully quiet on the floor behind me where Maylee was....I know from previous mommy experience this is a very bad thing.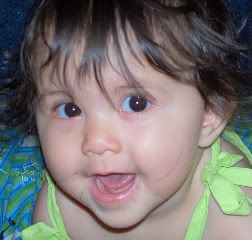 I was correct! I look behind me and I see this...Maylee got an ink pen and apparently tried to eat it.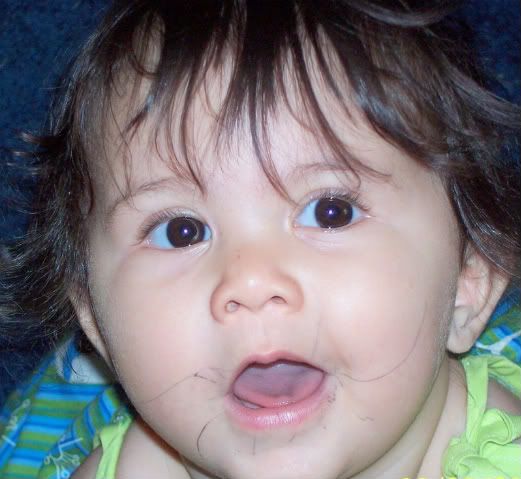 Aint she cute?
I had to take pictures, I just HAD to. This is the first time she has got into an ink pen...I think all kids eventually get into ink pens or markers..or god forbid, the PERMANENT markers (gasp) I got this ink pen off pretty easy when I gave her a bath. No big deal, the soap took it right off.
I have a picture from eons ago of Justin and Tyler when they was little and Justin had got a marker and marked ALL over Tylers face. Oh it is hilarious! I need to scan it sometime and get it on here. There is a lot of old pictures I need to scan come to think about it, but who the heck has time! I am up super early just cause I got blog fever LOL I have to find time to blabber about stuff sometime!
I had a few minutes last night and I whipped up Maylee a new pillowcase dress out of this cute fabric I found the other day while shopping for fabric for a custom order...aint that how it goes, you go to the fabric shop for ONE fabric for a customer, and before you know it you have a pile of fabrics!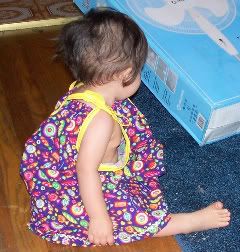 Its a purple fabric with little candies on it! Its SOOOO cute. I did screw up the armholes...you can see like, her whole chest thru the armholes. I have to fix that. Made me mad GRRRR! I always do a perfect job on armholes in these dresses but this one I cut too big.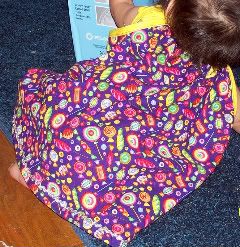 You can see the silver ric-rack I used on this one a little better in this picture. I LOVE the silver ric rack!! I thought it would set this dress off perfect! I used yellow bias tape around the armholes and for the ties. I like yellow and purple, and there is a lot of yellow in the print and the ties really bring it out too.
I only wish I hadnt screwed up the armholes!!! Its perfect otherwise!!
Today my main goal is to knock out all my customs I have. I want to get them ALLLLL done while Noor is off today. I also have some pillowcase dresses I have had made for ages I need to get listed on Etsy...so I have to catch my lil supermodel in a good mood today so I can get pictures...work it girl! LOL
OK I think I have fulfilled my burning need to blog...I got up at 6:30 AM so I could blog today LOL I got up to feed Maylee and thought...if I stay up I could blog! I am awful LOL